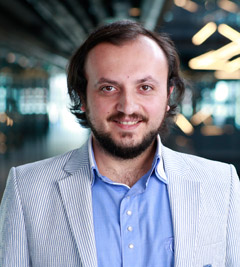 Ph.D.: University of Twente, Bio-mechanical Engineering & Robotics and Mechatronics, 2014.
Post-Doc.: Vrije Universiteit Brussels, Robotics & Multi-Body Mechanics, 2014-2016.
Research Interests: Biomechanics, Biomechatronics, Prosthetics & Orthotics, Human-oriented Device Design, Assistive Devices, Rehabilitation Robotics, Robotic Exoskeletons, Design, Kinematics & Dynamics, Energy Efficiency, Compliant Actuators, Robotics, Mechatronics,…
Short bio: Dr. Ramazan Ünal is currently an Assistant Professor in Mechanical Engineering Department at Abdullah Gül University. He received his Ph.D. from University of Twente in January 2014 for the design and control of energy-recycling transfemoral prosthesis in Biomechanical Engineering and Robotics and Mechatronics groups. He received his M.Sc. from Sabanci University for the design optimization and control of parallel structured haptic exoskeleton for wrist rehabilitation in Human Machine Interaction Laboratory, 2008. He received his B.Sc. from Yildiz Technical University in Mechanical Engineering with major in Automotive, 2005. He worked as a post-doc researcher for design and development of actuation systems for lower limb exoskeletons in Robotics & Multi-body Mechanics group at Vrije Universiteit Brussels (2014-2016). There he was involved with one European and one national research projects, related with robotic exoskeletons.