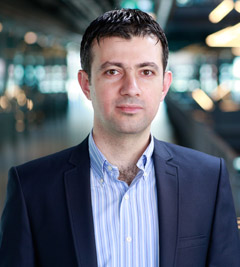 Ömer F. Genç is currently an Assistant Professor of Strategy & International Business at the Department of Business Administration of Abdullah Gül University (AGU). Before joining AGU, he worked at Minnesota State University, Mankato as an Assistant Professor. Dr. Genc received his PhD in International Business / Strategy from Temple University, holds a Master's degree in Finance (MSF) from University of Illinois at Urbana-Champaign and a Bachelor's degree in Business Administration from Middle East Technical University, Turkey.
Dr. Genç's current research interests include cross-border mergers and acquisitions (M&As), competitiveness of companies, internationalization of small and medium sized enterprises (SMEs), CEO compensation, angel investors and start-ups, and exchange rate exposure. Dr. Genc has presented at several conferences and he is the recipient of "Best Paper Award in The Strategic Management Track" at the 2014 Annual Conference of the Academy of International Business (AIB) Southeast Chapter and the "Best Student Paper Award" at the 2010 Annual Conference of the Academy of International Business (AIB) Northeast Chapter.
Ömer F Genç has been teaching since 2011 and he taught several courses at Minnesota state University and Temple University. Dr. Genç's teaching portfolio includes Global Business Policies (Strategy Capstone), Global Strategic Management, Fundamentals of International Business, International Marketing, and Export Administration.He received the Graduate Assistant Innovation in Teaching Award at Temple University in 2012. He is currently a member of Academy of Management (AOM) and Academy of International Business (AIB).