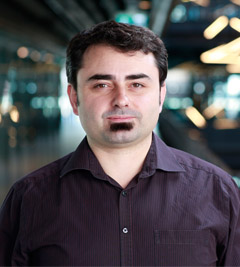 Burak Asiliskender is an Associate Professor at Abdullah Gül University Faculty of Architecture, and head of the Department of Architecture, since 2012. He is also one of the co-founders of the Argeus Architects.
He holds bachelors degree in architecture (Yildiz Technical University/Istanbul), master of science degree on architecture (Istanbul Technical University) and doctor of philosophy degree on architectural design (Istanbul Technical University).
He was an academic member of Erciyes University Faculty of Architecture between 1999 and 2011. He also worked at Mardin Artuklu University, as a Visiting Professor, between 2011 and 2012. He supervised the (eumk) Erciyes University Architectural Association between 2005 and 2008. He had been the vice chairperson of the Erciyes University Department of Architecture between 2008 and 2010. He had an editorial stuff at the architectural magazine of UIA Chamber of Architects in Turkey Kayseri Branch TOL. He has been also a member of the Child and Architecture Commission at UIA Chamber of Architects Kayseri Branch.
He is one of the international members of the Docomomo (International Committee for Documentation and Conservation of Buildings, Sites and Neighborhoods of the Modern Movement). He has several papers, articles on the modernity, identity, space and place concepts, modernization and especially their spatial reflections on Turkey and Kayseri at early times of Turkish Republic, published national and international wide.
-